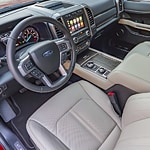 As a highly-regarded full-size SUV, the Ford Expedition has a lot to offer. This is especially the case when you consider the exceptional features.
Spacious Interior

The Ford Expedition can be described as opulent and roomy. It enables eight people to ride comfortably. There are tip-and-slide seats for the second row and reclining seats for the third row. Whether going on a road trip with your family or driving to and from work, the Expedition will facilitate a luxurious experience.

Panoramic Vista Roof

?You'll be amazed by Ford's panoramic Vista Roof when inside the Expedition. The sheer size of the roof provides a sense of openness that can be enjoyed by the driver and passengers in each row.
Ready for a test drive? Contact Milnes Ford Inc. today to make arrangements. Test driving the Ford Expedition will enable you to see for yourself why it's such an popular SUV.