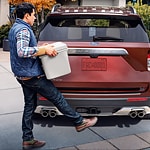 There are several reasons that people choose the 2020 Ford Explorer. They like the fact that the vehicle has the ability to tow up to 5,600 pounds. They also like the fact that it has the ability to seat up to 6 to 7 people. Additionally, people enjoy the features that come along with this vehicle.
One of the features that the Ford Explorer has is 4WD With Terrain Management System. You will be able to select different drive modes. This includes deep snow/sand, trial, normal, tow/haul, sport and eco mode. You will be able to safely drive on any type of terrain.
The vehicle also has towing and trailer swaying control. The brakes and engine power will automatically adjust in order to help you maintain control of your trailer. If you want to test drive the 2020 Ford Explorer and try out the capability features, then you can visit the dealership.