ABOUT LAPEER DENT SERVICE
Auto Hail Repair, Paintless Dent Repair, Car Hail Damage Repair Specialists
Lapeer Dent Service Near You, Lapeer, Flint, Michigan
Russ at Milnes Ford has provided superior auto hail damage repair services, car dent repair all by the use of our paintless dent removal services or PDR which it's sometimes called.  We work on all types of vehicles and take pride in delivering outstanding results for our customers across the Lapeer and Flint Metro region.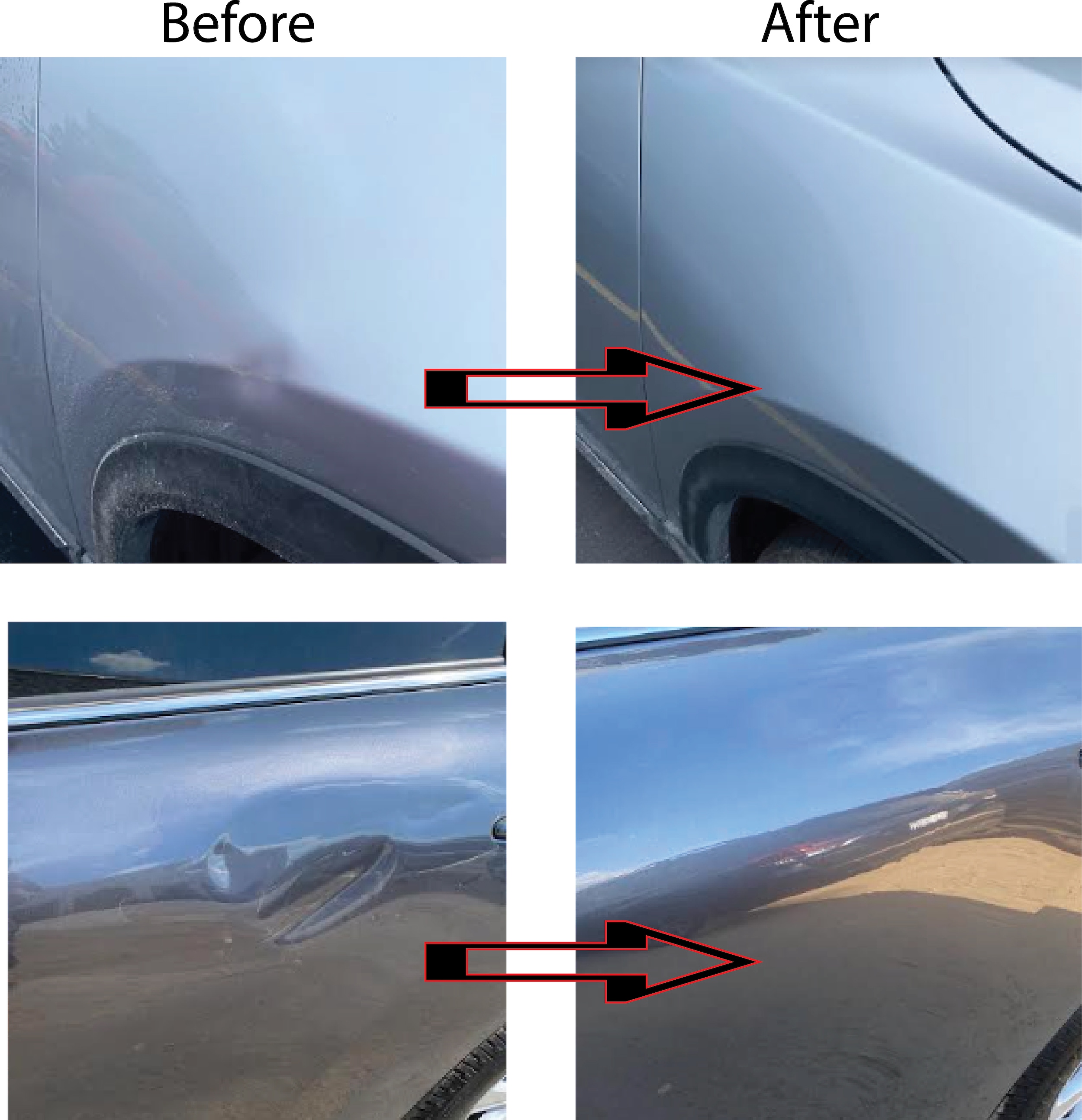 Russ at Milnes specializes in restoring your car to "like-new" condition through the removal and repair of hail damage, door dings, minor dents, and even those annoying collisions with stray grocery carts that seem to happen all too often.
Avoid The High Costs Of Traditional Body Shops
We are a family-owned business that has been serving Lapper, Flint, Grand Blanc, Davison and Imlay City for over 30 years. Our goal at Milnes Ford is to provide you with quality service while maintaining our reputation as one of the best auto hail repair companies around.
Our technicians have extensive training on how to properly handle hail damage repairs. They will work quickly and efficiently to get your vehicle back into shape after an auto hail storm damage or maybe just a runaway grocery cart or a stray bicycle.
Russ at Milnes Dent Service Is your true partner in auto hail and dent repair
You'll find out we are dedicated to bringing your car back to life, to like-new condition.
We know that dealing with auto hail repair companies can be stressful, we promise that we'll help make your repair experience as simple and straightforward as possible.
We're your go-to Lapeer County shop for everything Paintless Dent Repair (PDR) related.  Whether it's dealing with your auto insurance claims team or arranging a free rental car for you to use when our car is being repaired, to paintless dent repair (so your paint warranty stays in place whenever possible), damage deductible coverage, and assistance, and more.
Hail Damage Dents Are No Match For Our Paintless Dent Repair Services
Our Auto Hail Repair Process
1. Schedule an inspection
Contact us for an on-site or in-store inspection and estimate.  It is possible with certain damage scenarios for us to provide you with a rough estimate from photos or videos.
     1) FREE estimate on all repairs
     2) Scheduling of work order within 24 hours
     3) Paintless Dent Removal - Best method to fix hail damage
     4) Deductible Coverage
     5) Insurance Claim Support
     6) FREE Rental Car
     7) Warranty Protection
     8) Customer Care Team
     9) Lifetime Guarantee
     10) No Hidden Fees or Charges
2. We Help You Navigate Your Auto Insurance
If you prefer, we will communicate directly with your insurance company on your behalf and can even help you file your claim, as well as schedule your adjuster to do the inspection at our shop.
Auto Hail Damage And Paintless Dent Repair Frequently Asked Questions
Can a hail damage claim raise my insurance premiums?

How much does auto hail repair cost?

Can a hail damage claim raise my insurance premiums?

What if my insurance policy doesn't provide for free rental car coverage?

Is there a way a customer can track the repair process?

What sort of warranty do you offer?

How soon do the repairs start?
Why Choose Paintless Dent Removal and Hail Damage Repair?
The typical body shop "repair" process will likely include grinding off paint, hammering the metal back into shape, adding filler and possibly repainting. This comes with a hefty price tag and can take over a week to get your car back. Paintless dent removal on the other hand:
Costs a fraction of the price of conventional

Can be completed in just 1-4 days

Uses advanced tools for fewer body repairs

Retains your vehicle's factory finish

Uses an environmentally friendly process

Reduces the need for replacement parts